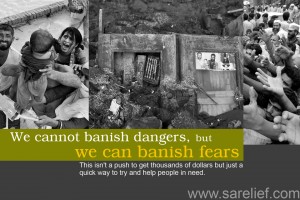 The recent flooding in Pakistan has been rated by the United Nations as the greatest humanitarian crisis that the UN has ever faced. It has already affected more people than the tsunami in Southeast Asia and the recent earthquake in Haiti.
UN spokesperson Maurizio Giuliano said: "This disaster is worse than the Southeast Asia tsunami, the 2005 Pakistan earthquake and the Haiti earthquake."
Although the current 1,600 death represents a fraction of the 610,000 people killed in the three previous events, some 20  million people  (6 million are children) have been impacted. We can help the living.
The UN estimated that over $1 billion will be needed to help Pakistan once the rains stop. The World Food Program said that 4 million people will need food supplies for three months after the rains stop.
We have  put together a partial list of credible and well known International charity organizations that prospective donors can support. For an extensive list of Relief organization please visit our Floods 2010 Wiki Page.  Additionally we  have partnered with OFF-ROAD PAKISTAN and BEHBUD ASSOCIATION in driving a grassroots relief drive in Sindh. For information click here.